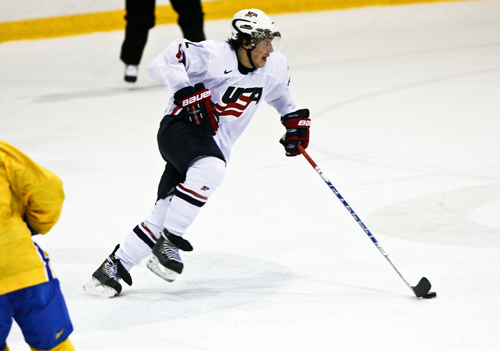 Skate the right way damn it!
The United States were my *logical* pick (I still cheer for Canada - look at that Mark Stone go!) to win this freaking tournament. They're now playing against the likes of Denmark, Latvia, and Switzerland for not getting relegated into oblivion.
What?
Who do you blame? Who do you ask? What explains that anomaly?
They had experience. They had the best defending corps in the world juniors, everyone thought. They had some kind of skill up front, with the likes of Emerson Etem, Miller, and company.
Here's my take.
They played Denmark first. It ruined them.
They saw Finland as a crappy team that they could play their back-up goaltender with and still romp. The Canadians could do it, so could they!
Wrong move. Gibson, as we saw, was a lot worse than Jack Campbell, who played his heart out and gave them a chance in every minute of that Czech game. They lost the Finnish game, and all of a sudden, they had their backs against the wall.
Then they ran into a wall painstakingly built brick by brick by Petr Mrazek, who, if you note, has been drafted by the (expletive) Detroit Red Wings. HOW DO THEY DO IT?
Out of all of this, if you want someone and something to blame, blame the expectations and the coaching.
They were expected to destroy Finland. They crumbled. They were coached poorly during the Finnish game. They crumbled.
At the end of the day, the intangibles killed them. And Petr Mrazek.
I simply can't. I'm assured that Finland will beat the Swedes, because every team with Oilers prospects has been destroyed and Finland is pretty freaking awesome.
I don't want to predict Canada and Russia. By all means, Russia should lose, like they should have lost to the Czech Republic/Petr Mrazek. But I'm not going to take anything from them. They're good.
I'm cheering for Canada. Let them win in peace.