I don't need more words than that.
Maybe a picture post.
As I reply, the Oilers are losing (incredibly) 2-0 with just 10 minutes ... gone in the first period.
Are you kidding? Is that a trick question?
We had a good run without Belanger - then Potter goes and curbstomps Hall's face.
Do you know what our prospects are for this game?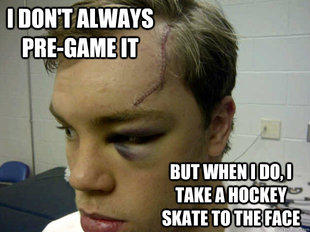 If you so desire...
Hall-Gagner-Hemsky
Eberle-Horcoff-Smyth
Jones-Lander-Paajarvi
Eager-Offensive Dynamo Belanger-Hordichuk
Smid-Peckham
Potter-Teubert
Sutton-Petry
Khabibulin
Predictions
We lose. Hall could change that. Eberle could change that. They won't.