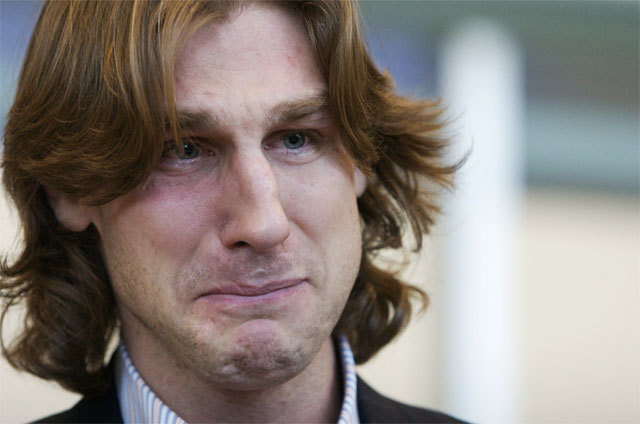 The trade, version 2
The roots of the rebuild began with the trade of the core of this team since 1995, Ryan Smyth (Pronger being a foretold conclusion). On pace for 30-something goals once again in his illustrious career, he was traded to NYI for picks after a dumb-ass contract dispute. Nope, not a trade for players, but a trade for picks. This likely marks the first misstep in the organization and the first moment where the Oilers could have done something to become a contender and relapsed into being a pretender - a major reason this team lapsed into a rebuild. His goal-scoring abilities were attempted by Penner and have only been replaced, many years later, by Jordan Eberle. His star quality and ox-like ability to lift this team into playoff contention, however, has arguably never been replaced, even by an older version of himself. Hall's trying.
The Oilers finished with a win more than Chicago and ended up in 6th place, out of the draft lottery. What could have been Patrick Kane became Sam Gagner, arguably the second most successful forward in the first round (after said Kane - not a bad consolation prize, haters!). In a draft year full of busts and missed opportunities (et tu, Jamie Benn?), Sam Gagner remains second in games played and points scored for a forward.
The year after very well should have been our first year drafting first overall, had it not been for the powerful line combination that seemed to solve every single one of our problems, the Cogs-Gags-Nils line. Flashy, dashy, and incredibly small, they pulled us within 3 points of a playoff spot, that belonged to the sophomore Shea Weber-featuring Predators. We had a bonafide superstar all-rookie line! The future was ours!
Or was it? Aging goalie Roloson desperately needed a decent back-up. He simply couldn't play every game, and if they did, they were doomed to be mired in mediocrity. The Oilers made another mistake of searching within the system for a goalie that hadn't materialized.
The season after featured the moves of acquiring Erik Cole-Patrick O'Sullivan and Lubo and shipping out serviceable loyal Edmonton players like Jarret Stoll, Matt Greene, and Raffi Torres - players whose grit and hard work ethic we have likely just replaced in 2012 - (Belanger, Schultz, Eager). The Cogs-Gags-Nils line, not suspectingly, were shut down by dominant blue liners who simply pushed them around. The search for grit *cough cough* was on.

After this, the Oilers refused to commit to a rebuild or to a playoff spot, standing rather pat at the deadline - another big mistake. They believed in the team being able to push for the playoff spot that most observers noted was well out of their reach. Should have traded Souray to a contender... here. The Oilers would finish in the worst spot - out of a playoff spot and out of the lottery.
The roots of the rebuild were marred by injury (Hemsky), idiotic contracts (Horcoff), and pursuits of high-profile free agents that made Edmonton look like a desperate ol' hick town (Marian Hossa). The bright spots of the future from this time period include Sam Gagner and Ladislav Smid, acquired from the Pronger trade. And some guys named Paajarvi and Eberle.
His face
, after every game.
The second-most successful coach in Oilers history was shipped out (Craig MacTavish, love him or hate him). Our first legitimate starter since Tommy Salo who had brought us all the way to the Cup Finals was not tendered a contract (Dwayne Roloson).
On the front? We signed Pat Quinn, a trade lauded by critics around, and Tom Renney, something many people considered a steal as an assistant coach.
For goalie? We signed the 3-year younger Nikolai Khabibulin, the man who had clearly stoked Oilers hearts by beating Calgary for the cup in Tampa.
Sure, at the time, he was the best goalie on the market. And sure, we had Jeff Droin-Deslauriers, as well as Dubnyk, who should have and could have taken the reigns.
And who can forget Dany Heatley's surreal rejection of the Oilers trade proposal, which included a basket of Oilers memorabilia. I wish I was making that up.
The Oilers could have done a lot better by signing Roli and keeping Craig MacTavish. At the very least, they could have kept Pat Quinn's stellar career away from this mess.
This team, the Oilers 2009-2010 version, was stricken with a plague - only Dustin Penner would play 82 games in the whole season. Khabibulin, the prime offseason signing, was injured and later spotted extreme drunk driving, which sounds mildly exciting. Souray broke his hand on Iginla's face. Hemsky was Hemsky and could not remain healthy.
But it wasn't simply just that. The Oilers set into the season most likely never to compete in it, let alone do damage in the playoffs. It was built like a team in a non-hockey market, a Phoenix or a Carolina, that had perhaps one star (Sam Gagner) and the plugs who would hope for the best. No star, like Calgary, Vancouver, Toronto, Montreal, Ottawa, New York, Los Angeles, or even fricken Minnesota.

This team, had it been completely healthy, perfectly healthy, would have failed. Tambollini failed the team and its fans by refusing to ship out the parts that had failed a year before (Moreau and O'Sullivan) and standing pat at almost every opportunity.
Teams with injuries often seek out parts to fix them. This team didn't. But no amounts of band-aids or gauze strips could have saved this stinking ship. Delauriers wasn't the goalie of the future, and Dubnyk seemed to be empty of confidence.
But Khabibulin would be back next year! And it was going to be impossible for this team to lose that many games to injury, we swore, crossing our fingers. Besides, there was light at the end of the tunnel in the form of wunderkind Taylor Hall, a goal-scoring machine out of the Spitfires, and all-around playmaker Tyler Seguin, whose overall centering abilities made him another potential first-overall pick - both of which forced into the gulag of Edmonton by force of the draft. Huzzah!
Not to mention some guy named "Cardiac" Eberle, a kid who had a knack of scoring big goals.
Next year couldn't possibly be this bad, right?
2009-2010 is the year of the injury. Rebuild Year 1.